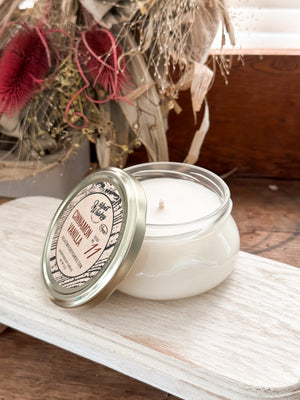 Cinnamon Vanilla 6 oz Tureen Jar
Sale price Price $10.00 Regular price
6 ounces of all natural soy wax in a small tureen jar with a single cotton wick and a gold lid.

Cinnamon Vanilla blends sweet sugar sprinkles with fresh cinnamon and classic vanilla bean into a warm confection that will have your mouth watering. Little hints of bourbon and buttercream round out this tasty fragrance. Whether it's the cold holiday mornings or just the sweet, warm air around the donut shop, Cinnamon Vanilla will transport you there, pining for a hot coffee or a cold glass of milk.

This candle has approximately an 50 hour burn time.